San Lorenzo Golf Course Receives TripAdvisor 2015 Certificate of Excellence
May 21st, 2015
Reviews Help Algarve Golf Course Achieve 2015 Certificate of Excellence
San Lorenzo Golf Course is delighted to announce that it has been awarded a 2015 Certificate of Excellence from TripAdvisor. We would like to take this opportunity to thank every golfer who has played a round on our 18-hole course and taken the time to review their experience.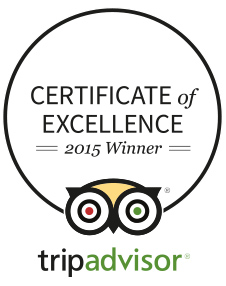 TripAdvisor's Certificate of Excellence can only be won by receiving consistently great reviews from the public. The coveted accolade is therefore a great reflection on the level and dependability of our service and facilities, and a much appreciated pat-on-the-back for our team. We are also very pleased to remain the number one attraction in Quinta do Lago.
After launching in 2000, TripAdvisor has grown to become the world's largest travel site. Over 300 million unique visitors seek to read or write reviews for the latest experiences every month. Each reviewer is invited to leave feedback for accommodation, dining destinations and attractions within 45 countries worldwide, rating it out five stars, attaching photographs and providing indepth descriptions. Winning the TripAdvisor Certificate of Excellence is therefore an outstanding achievement based entirely on unbiased feedback.
We are very grateful to be awarded the 2015 Certificate of Achievement from TripAdvisor and would once again like to express our thanks for every review. We strive to deliver an outstanding golf experience in the Algarve and the feedback we receive on TripAdvisor allows us to develop this further. Guests of Dona Filipa Hotel get exclusive access to our 18-hole course and the five-star destination has also been awarded a 2015 Certificate of Excellence, an indication that from the moment you check-in, to the moment you tee-off, you'll be in for a truly exceptional experience. If you're looking for a luxury golfing break in the Algarve, why not take a look at its latest offers here?